The Reverend Matthew Griffiths
I was born and raised in Auckland in an Anglican Family. After leaving high school, I attended The University of Auckland and completed a BA/BCom, majoring in English and Marketing. I worked in telecommunications for three years. I retrained in 1997 as a teacher and taught English in several schools. My last teaching post was at Tamaki College in Glen Innes. It was at Tamaki that my call to ordination became very real. I had a sense that God had been calling me to ordination for some time and, prayerfully, I tested that call, and was discerned to train for ordination in 2013.
I am blessed to be married to Terrena and am also a proud father to Emily and Thomas. Both are impressive young adults and Terrena and I are excited to see what their future will be.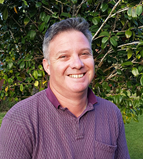 (09) 575 5288 – office
(021) 181 6378 – mobile
Baptisms, weddings, funerals
and other pastoral needs
Vestry
Our vestry is a busy, active group of elected members. Each member has responsibility for a portfolio or area of church life. They report to the monthly vestry meeting, raise matters relating to their portfolio, and then follow up on decisions made.
Vestry is led by the People's Warden, Madeline Gunn, and Vicar's Warden, Warwick Jones
Current vestry members are:
Margaret Spencer – Synod Representative
Lyn Stevens – Synod Representative
Pauline Massey
Andrew Parsons
Tsana Plessius
Jackie Scorgie
Jo Thompson
Sally Warwick
Stuart Weightman