St Philip's Church is celebrating it's 125th anniversary
We are pleased to offer a range of limited edition commemorative items, which you may purchase for yourself, or to give as gifts.  Each item has exclusive St Philip's 125th anniversary branding.
After reviewing the available items underneath, click the Order Now button to request your commemorative items. Please note, there are limited stocks available, so get in quick to reserve yours while you can!
If you would like to find out more then please contact us on 09-575-5288 or email office@stphilips.nz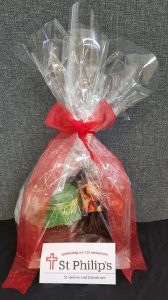 Jams, Preserves and Pickles
A trinity of treats with fruits used in biblical times.  Lovingly hand made by St Philip's Jaminators.
 ¨ Olives gathered locally and preserved naturally
¨ Dried fruit steeped in port, brandy and other spirits
¨ Apple and date chutney with crostini
$25
A selection of other preserves and pickles will also be available at the door.